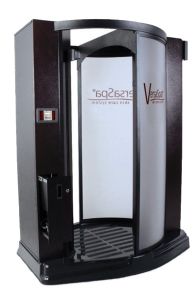 VersaSpa Sunless Tanning FAQs
Will my skin look orange?
After seeing many people with orange skin on the beach, it's reasonable to be a little worried about this. But don't worry, your skin will not look orange. The technology used in the VersaSpa is designed for a natural, bronze color and our experienced salon staff can help you choose the right level of solution to match your skin tone.

What is DHA?
DHA is short for Dihydroxyacetone, which is an active ingredient in sunless tanners, tinted moisturizers, and spray tan solutions. DHA is a monosaccharide sugar, which is often derived from beets or sugar cane. While DHA is FDA approved, they do recommend using goggles to prevent eye contact.

What happens if sunless tanning solution gets in the eyes?
First, it's important to follow all safety processes and to ensure the solution isn't used around the eyes. If your eyes are feeling irritated after a session, splash your eyes with water. Nova Tans will supply goggles to protect your eyes during your session.

Will swimming affect my tan?
If you're swimming in a chlorinated pool or salt water, your tan could fade or streaks could appear. However, showering, bathing, or exercising won't affect your spray tan.

How long does VersaSpa Last?
Depending on the solution that you choose and the condition of your skin, the spray tan could last up to 7 days.

How long should I wait to shower?
For the best results, it's recommended that you wait eight hours to shower after your spray tan is completed. The minimum amount of time to wait is four hours. If you don't wait long enough to allow the DHA to set in, it could cause the tan to be less intense.

Will the formula stain my clothing?
Clothes that you wear after the session will not be stained. The spray tan solution is water soluble and will wash out in the laundry. However, don't wear your favorite underwear during the session as they could be permanently stained.